How to choose the right size of leather gloves?
We dress them primarily to protect our hands, but they can also be an effective accessories to our entire styling. Good gloves are made of leather, so they can serve us for several seasons. Therefore, it's good to know how to choose their size correctly so that they fit perfectly. Here are some practical tips that you should read before buying women's or men's gloves in our online store.
How to choose gloves correctly?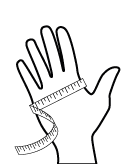 Leather gloves offered in the napogloves.com online store are available in several different sizes, marked with letters (XS, S, M, L, XL) for both women and men. You can choose from gloves with or without lining (non-insulated). Choosing the right size depending on the width of your hand. The measurement to find the right size should be made on an upright hand, measuring the width (circumference) of the hand with a tight fitting. This method is very simple and effective – thanks to it you can quickly find the right size of exclusive winter or car gloves. If the size of your hand is between two different sizes, we suggest that you choose winter gloves a larger size. All our products are made exclusively from the highest quality natural leather, thanks to which they perfectly match the shape of your hand.

Size in centimeters and size in inches
The sizes of our leather gloves are given letter markings that correspond to the width of the hand in centimeters or inches. If you want to convert the size in centimeters to the size in inches, or check what width of the hand corresponds to what sizes of napo gloves, you can use the following table:
Men's gloves
| Size of napo gloves | Inch | CM |
| --- | --- | --- |
| S | 8-8,5 | 20-21,5 |
| M | 8,5-9 | 21,5-23 |
| L | 9-9,5 | 23-24 |
| XL | 9,5-10 | 24-25,5 |
Women's gloves
| Size of napo gloves | Inch | CM |
| --- | --- | --- |
| XS | 6,5-7 | 16,5-18 |
| S | 7-7,5 | 18-19 |
| M | 7,5-8 | 19-20 |
| L | 8-8,5 | 20-22 |
In the event that the purchased exclusive winter or car gloves turn out to be too small or too large, they can be returned within 30 days. In case of problems in choosing the size, we offer professional help. We encourage you to contact us by email: support@napogloves.com.